We all know that a lot can change within a year… 
Some of us get married, have children, buy a new car or home, some of us may break up, move, change their phone # or sell their car.
All of these scenarios have one thing in common, they are changes…
These changes need to be updated with us your Insurance Agency, so we can better serve you with all your insurance needs.
We know that time is precious, so all you need to do is go to www.MitchWhiteAgency.com/profile and simple update you profile information and you will automatically be entered to win a $250.00 Visa Gift Card.
Its our way of saying Thank you, we appreciate your time and business.
Be sure to Update your information today our Visa Gift Card drawing will be held on Sept 30, 2014 at 4:00pm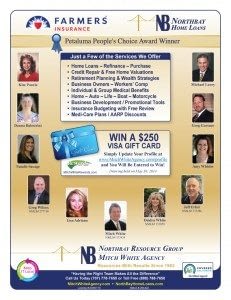 Click on flyer to view larger
Also check out Mitch White Rewards @ www.mitchwhiterewards.com for Great Discounts & Savings at Local Store's near you!
When you Upgrade to a GOLD Membership, you are not the only one receiving the benefits, For every GOLD membership sold a portion goes to a charity of your choice.
www.mitchwhiteagency.com / www.northbayhomeloans.com / www.luceywealthadvisors.com / www.mitchwhiterewards.com